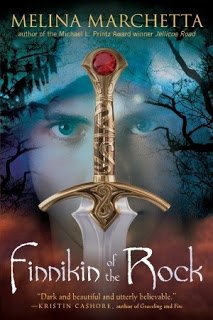 Finnikin of the Rock, Melina Marchetta (Gr 8+)
Candlewick Press, February 9, 2010. Reviewed from purchased copy.
"Finnikin was only a child during the five days of the unspeakable, when the royal family of Lumatere were brutally murdered, and an imposter seized the throne. Now a curse binds all who remain inside Lumatere's walls, and those who escaped roam the surrounding lands as exiles, persecuted and despairing, dying by the thousands in fever camps. In a narrative crackling with the tension of an imminent storm, Finnikin, now on the cusp of manhood, is compelled to join forces with an arrogant and enigmatic young novice named Evanjalin, who claims that her dark dreams will lead the exiles to a surviving royal child and a way to pierce the cursed barrier and regain the land of Lumatere. But Evanjalin's unpredictable behavior suggests that she is not what she seems — and the startling truth will test Finnikin's faith not only in her, but in all he knows to be true about himself and his destiny."
This was my first experience with Melina Marchetta, but it will not be the last. Actually, it opened a floodgate of fan-girlishness that has made her one of my all time favorite authors. Marchetta's voice is so unique – it flows over the reader so effortlessly that it makes reading her books a true leisure activity. I fell incredibly easily into Finnikin's world. I had (and still have) a very vivid picture of the land, the people, and the cities in my imagination. Marchetta world builds in a way that any author would be jealous of, so that the reader is totally unaware of it. This was the sort of book that took over my imagination so completely it made it difficult to read a new book once I'd finished. Which, let's face it, is an awesome problem to have.
The characters who populate this land are diverse, interesting, and will work their way into readers' hearts. Finnikin is everything you could want in a main character – he's brave, stubborn, angry, and loyal. Readers will be instantly drawn to him. The secondary characters are abundant, but all of them have their own personalities and places in Marchetta's story. I was just as attached to some of them as I was to Finnikin (Travanion, Sir Topher, Evanjalin!). The only secondary character who I could never make my mind up about was Froi. Do I hate him or love him? I really wasn't sure until I read Froi of the Exiles (review to come), which I'm sure is exactly what Marchetta intended.
This novel will pull readers in and force them to keep turning pages. I absolutely loved it and recommend it highly to anyone who enjoys fantasy, strong characters, and amazing world building. I just can't say enough good things about Melina Marchetta!
—————————————————————————————————————
If you like Finnikin of the Rock, you might also like:
The Lord of the Rings, J.R.R. Tolkein
The Demon King, Cinda Williams Chima
The Thief, Megan Whalen Turner