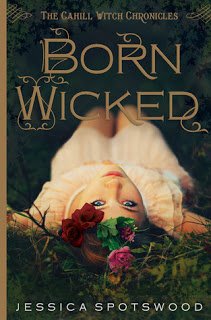 Born Wicked, Jessica Spotswood (Gr 7+)
Putnam Juvenile, February 7th, 2012. Review copy provided by publisher.
"Everybody knows Cate Cahill and her sisters are eccentric. Too pretty, too reclusive, and far too educated for their own good. But the truth is even worse: they're witches. And if their secret is discovered by the priests of the Brotherhood, it would mean an asylum, a prison ship–or an early grave.

Before her mother died, Cate promised to protect her sisters. But with six months to choose between marriage and the Sisterhood, she might not be able to keep her word… especially after she finds her mother's diary, uncovering a secret that could spell her family's destruction. Desperate to find alternatives to their fate, Cate stars scouring banned books and questioning rebellious new friends, all while juggling tea parties, shocking marriage proposals, and a forbidden romance with the completely unsuitable Finn Belastra.

If what her mother wrote is true, the Cahill girls aren't safe. Not from the Brotherhood, the Sisterhood — not even from each other."
The Cahill sisters are witches in a time when being a witch, or even a strong woman, means life imprisonment or death. Their world is controlled by the Brotherhood, an all male religious order that imposes strict rules of conduct. Cate Cahill has been trying to supress her magic and that of her sisters for their own protection, but the girls are getting stronger. With their mother gone, and a new governess in the house, and only a few months before Cate must either announce her engagement or join the Sisterhood (the Brotherhood's female counterpart) the stage is set for some serious historical supernatural drama!
Cate is an interesting character. She seems to want nothing more than to disappear into the world she lives in. She doesn't want anyone to notice her, or her sisters, but she can't help but stand out. She is strong, brave, and caring. I loved her instantly. Cate's journey throughout the novel is one that will keep readers turning pages and longing for the sequel to come out faster! Her sisters were slightly less developed characters, but still intriguing. Maura, the middle sister, was particularly interesting to me. She's a very angry character and has complicated relationships with those around her. She seems to be desperate for love and acceptance. I'd love to get a little (or a lot) of her perspective in the next novel.
Jessica Spotswood has created a compelling, interesting world. Her United States was colonized, but never pulled away from England. The big city is called New London, the overall feel of the place is very British, and magic permeates everything (whether the Brotherhood wants it to or not). This is a great book for teens who enjoy historical fantasy and romance.
—————————————————————————————————————
If you like Born Wicked, you might also like:
Chime, Franny Billingsley
Prophecy of the Sisters, Michelle Zink
Clockwork Angel,Cassandra Clare