24 December 2011
The Thirteen Days of Doctor Who: Growing Up with the Doctor
Today, we're doing things a little differently here at Libri Dilectio. In honor of the holiday and the best television show EVER (inarguable), I'm participating in the 13 Days of Doctor Who Blog Hop! This is the final day, so for those of you who've been following the hop since the beginning, you're in the home stretch! Soon you'll find out who won that highly coveted series 6 box set! Thank you to Erica O'Rourke for hosting and inviting me to play too!
I also have a guest hanging out at at LD with me today, my Dad, Mark! I thought no post about me growing up with Doctor Who would be complete without the man who started it all. You may remember my dad from his previous guest appearance, reviewing I Shall Wear Midnight by Terry Pratchett. Today he will be wearing
TARDIS blue

and I'll be in traditional black. Here we go!
Matt (2) and Becky (4) – Doctor Who babies 1989
The Doctor has been a part of my life for as long as I can remember. At the age of 4, I rocked a homemade (thanks mom) mini Doctor Who scarf. My brother, 2 years old at the time, had a matching one. We drank out of Doctor Who mugs when we wanted hot chocolate after playing in the snow, and we both referred to the show as "Doctor Wubbedy" since we sang the theme song, "wubbedy wub wubbedy wub…" Yes, we were cool children.
My dad, who was always available on Saturday mornings to watch The Smurfs or Mighty Mouse, has always been a HUGE Doctor Who fan. Dad here, actually my first exposure to the Doctor was in 1972 at the house of a friend. His parents were watching an episode with Jon Pertwee as the Doctor. To explain the show to me they said, the Doctor was like James Bond from outer space who had a spaceship that was bigger on the inside than on the outside (honestly, it was one of the worst explanations I have ever heard of the show). My response was, "Let's go hang out somewhere else and talk about girls."
Six years later, I found myself in graduate school in Ann Arbor, in an apartment all by myself, and trying to get through the MBA program at the University of Michigan. At that time, WTVS, the Detroit PBS station, ran Doctor Who on Saturday nights. I started watching the show in reruns and found Tom Baker to be a wonderful Time Lord. He made you believe that he was more than human.
Okay, so you haven't always been a fan, but for a long time, as long as I've been alive. I remember watching old episodes of Doctor Who on PBS with you and not understanding what was going on. I liked Sarah JaneSmith best of all the assistants (as they used to be called) and Tom Baker was my Doctor. Obviously, I was a preschooler who wore his scarf! I've never hidden behind a couch to avoid the Daleks, but I knew that you didn't want to mess with those trash bin aliens!
In 1983, I found myself managing the construction of a suburban Chicago cable TV system for Westinghouse Electric. My plant manager was a big Whovian and every Monday morning, he would come into the office and want to talk about the episode shown on WTTW Chicago late on Sunday night. It was him who really opened up the world of Doctor Who for me. Peter Davison was the current Doctor Who or "Tristan" as we called him having been earlier fans of "All Creatures Great and Small."
When you were born, Colin Baker had become the Doctor and the show was starting to unravel.
Not that that was my fault or anything. I was just born under a bad BBC star or something. Something like that. Anyway, John Nathan Turner was producing the show and the stories were weak, disjointed and sometimes just plain bad, but that didn't stop me. I was still looking forward to bringing my children along for a ride in the TARDIS one day. When you were two, Sylvester McCoy became the Doctor and the shows got worse, although McCoy was a very convincing Doctor. Then, just as it looked like Becky was ready to join the team, the end came. Abruptly. No final episode, no tying up loose ends. Nothing. It was 1989 and it was over before it had begun.
Becky and Dad, Whovian Love!
And from then on, we waited. Well you waited. I had pretty much forgotten about the show. In 1994 I found one way to fill the gap: I discovered the Doctor Who series novels and started reading them. Those novels were what the show should have always been. The Doctor became a more dark and lonely person, feeling the pressure of keeping the universe together and often losing patience with it. One of my favorite lines from one of the books was, "I'm what monsters have nightmares about," which was later used for David Tennant in "The Girl in the Fireplace" episode. The made-for-tv movie came out in 1996 and the less said about that, the better, although I still think Paul McGann was superb and would have been a great continuing Doctor. You had high hopes for the TV movie, but sadly it just didn't grab an audience like the BBC wanted and the Doctor went back into hibernation for another 10 years.
Fast forward to 2005 – another job, but back home in the Chicago area. I was traveling to Europe every now and then for business. It was September 13th (a Tuesday – yes, I keep track of these things as any real Time Lord would). I was lying in my bed in the hotel in London watching the BBC when a promotional spot came on. It was a shot panning across a wall. The voice over said, "He's back. And it's about time." And the shot pans over to the TARDIS. WHAT?? I had not read that they had started shooting the show again!!
The next day, I ran over to Tower Records on Piccadilly and bought the first two DVDs of the new series without any way to play them. I figured out how to watch them on my company laptop, but that only works five times and then the DVD drive gets hosed. When I got home, I bought a multi-region DVD player so I could watch the shows on my HDTV. The show was just what it should have been years ago. It had picked up the darker and more serious elements of the books, but kept the old Tom Baker humor ("Nine hundred years of time and space and I've never been slapped by someone's mother."). I honestly could not wait to reintroduce the kids to the show. But that would have to wait until they got home for Thanksgiving.
In 2005, during my sophomore year of college, I brought my boyfriend (who is now my husband) home to meet my family. He was still at the point that he did pretty much anything my family asked of him, including watching Rose, the first episode of the new season of Doctor Who. I was skeptical of the new reboot, but, after one episode, we were both hooked. Maybe that was the first sign that we were meant to get married.
My dad and I (and my brother, mother, husband, friends) are devoted Whovians. We remember the lines, the episodes, the characters, and the music. Doctor Who is a part of my family, and one of the only shows we really enjoy as an entire family. We're all loving Matt Smith's Doctor and will miss the Ponds when they bow out at the end of this upcoming season. We'll all be watching tomorrow for The Doctor the Widow and the Wardrobe, and you should too!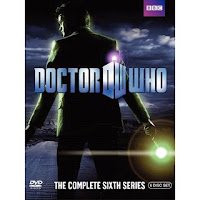 To enter the grand prize giveaway, please leave a comment with your name and email address. You may enter once at every stop on the blog tour, for a total of thirteen chances. The Grand Prize giveaway is limited to the US and Canada, due to regional restrictions on the DVD. Individual contests will close at the discretion of the author, but the Grand Prize contest will accept entries on any site until midnight CST on December 24th. The winner will be posted HERE on December 25th, and be notified via email.