10 December 2011
The Adventures of a Booktalking Librarian – Part III
My favorite outreach program at the library is a booktalk we do twice a year (
winter
and
summer
) for 3rd-5th grade advanced readers at a local elementary school. The kids really appreciate the visit, and I have a great time getting ready for it. I don't always get to go, gotta share the joy with some of the co-workers sometimes, but I did get to go yesterday! Another librarian and I each shared 10 titles with the class and then left them for the kids to read over winter break. I know we brought good books because I worked last night and 4 different kids came in looking for books from our booktalk!
Here are the books I shared this time:

How They Croaked: The Awful Ends of the Awfully Famous, Georgia Bragg and Kevin O'Malley
The awful ends of 19 awfully famous people including; Beethoven, Henry VIII, Napoleon, Pocahontas, and Queen Elizabeth I. Perfect for readers who love all things disgusting, but best avoided by those with a weak stomach.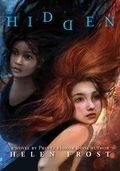 Hidden, Helen Frost
When Wren and Darra were eight years old, Darra's father stole a minivan, with Wren inside. What happened next changed both their lives forever.
Years later, Wren and Darra end up at the same summer camp and must face each other for the first time. Both girls have questions and neither one trusts the other.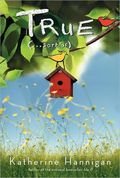 True…Sort Of, Katherine Hannigan
This is the story of three kids all living in a small town. Delly Pattison is one of many siblings and always in trouble. She doesn't mean to be trouble, everything she does seems like a good or helpful thing to her, but it's always big trouble. Brud Kinney is a shy boy who speaks with a stutter. Brud loves basketball more than anything. He wants to be the best basketball player in the world. Ferris Boyd is new in town and she plays basketball better than anyone Brud's ever seen, but Ferris is a very different kind of person. She never speaks and she doesn't want to be touched…at all. Ferris ends up in the same class at school as Delly, which, of course, leads to big trouble, and big fun.
Touch Blue, Cynthia Lord
Tess loves living on an island off the coast of Maine, but now that so many families have moved away, the state is planning to shut down her island's school. With no school, Tess and her family would have to move to the mainland. The islanders have a plan to keep their island school open and the families in their homes, they just need more students. Several families, including Tess', take in foster children. Tess is convinced her new foster sibling will be just like Anne in Anne of Green Gables. She can't wait to show her all around the island and make friends, but then it turns out that she's getting a foster brother. Aaron is a thirteen year old trumpet player who is not happy to be on the island and has no interest in getting close to Tess' family.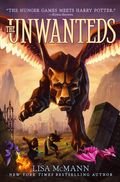 The Unwanteds, Lisa McMann
In Quill, thirteen is a very important age. Who you are at thirteen determines who you will be for the rest of your life, and how long the rest of your life will be. Thirteen year olds are sorted into two categories, the smart, strong Wanteds who go on to the University and a lifetime in Quill, and the artistic Unwanteds who are sent to die.
Alex and Aaron are twin brothers and also thirteen. Aaron is Wanted, Alex is Unwanted.
Alex is prepared to die; he has expected to be an Unwanted, knowing that he is too creative. When he arrives at the place where all Unwanteds go to die, he is surprised to discover that not only will he live, but he will be taught to use his creativity as magic. He now lives in the hidden land of Artime. A place filled with magic and mystery, and well hidden from the government officials who believe the Unwanteds living there are all long dead.
Even in this magical place, Alex can't forget his twin brother, Aaron. Their bond is so strong that each can sense the other, leading to danger for Artime and a magical war that will pit brother against brother.
Wisdom's Kiss, Catherine Gilbert Murdock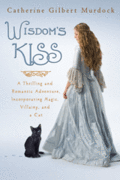 This is the story of three people whose lives become completely entangled. Princess Wisdom, known to all as Dizzy, just wants to be free to live a life filled with adventure. Tips is a soldier, trying hard to keep his true identity a secret from his family and the girl he left behind. Fortitude, called Trudy, has visions of the future, but only cares that Tips return home to her.
These three very different people must find a way to work together to save the country of Montagne, protect it's future queen, and find out who they really are. Too bad they have so much trouble getting along. Told in diaries, encyclopedia entries, newspaper articles, and plays, this hilarious story will turn happily ever after on its ear and redefine what it means to be a hero.
Liesl and Po, Lauren Oliver
Liesl has a wicked step-mother, who has locked her away in an attic room. Liesl's step-mother is so wicked that she didn't even let Liesl out to say goodbye to her father before he died. In the attic Liesl is all alone, except for the mice, until the night she meets Po – who just happens to be a ghost.
On the same night Liesl meets Po, Will, an alchemyst's apprentice, is supposed to make a delivery. He's meant to deliver a box containing the most powerful magic in the entire world, but he gets it wrong. Now the magic is lost and Will, along with Liesl and Po, sets off on an epic adventure.
Wonderstruck, Brian Selznick
This is the story of two young people, living 50 years apart. Rose's story is told entirely in pictures because Rose is deaf. This way, readers experience the world much as Rose herself does, through sight.
Ben's mother has just passed away and he's living with his Aunt, Uncle, and cousins on a lake in Minnesota. One night, he sneaks away and finds a clue to the identity of the father he's never met. Ben wants nothing more than to find his father, so he runs away to New York City where he meets some interesting people and ends up living in a museum.
Breadcrumbs, Anne Ursu
Hazel's parents have just gotten divorced, and to make matters worse, now her mother can't afford the tuition for the private school Hazel's always gone to. Hazel starts to attend public school, but she just doesn't understand the rules or her classmates. Hazel is a daydreamer, a reader, and completely lost in her own imagination. She doesn't have any friends at her new school, except Jack.
Jack is Hazel's neighbor and he's been her best friend their whole lives. Jack's family life isn't the best so he spends a lot of time in his imagination, just like Hazel. They are two peas in a pod until the day Jack gets something in his eye that turns his heart cold. He stops talking to Hazel or being her friend at all and one day he disappears completely.
Hazel knows there's more going on then just growing apart and that Jack hasn't gone to live with some relative she's never heard of. She sets off to save him and finds herself in the middle of an enchanted forest. Hazel learns that it's one thing to dream of adventures, but another thing entirely to find yourself in the middle of one.
The Chronicles of Harris Burdick, Chris Van Allsburg
The classic images and captions from The Mysteries of Harris Burdick are turned into full stories by 14 well known children's authors including: Kate DiCamillo, Lois Lowry, Louis Sachar, Jon Scieszka, and the man himself, Chris Van Allsburg.